Your browser is obsolete!
The page may not load correctly.
Dr.Web Enterprise Security Suite
Dr.Web vxCube
交互式云智能分析仪,对可疑对象进行分析
面向信息安全技术人员和网络犯罪侦查专家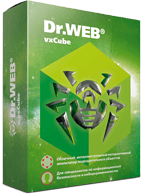 介绍
反病毒软件认为文件"干净",但您心存疑虑?请使用Dr.Web vxCube进行检查
只一分钟的时间,您就可以知道文件是否具有恶意功能(以及威胁级别),还可以得到包括视频在内的完整分析报告,报告包含文件如何在系统中运行、会对系统进行哪些修改,会与什么资源连接,您还可以看到这一文件的网络活动图等其他信息。
如果分析仪发现Dr.Web反病毒产品尚不能侦测您发送的文件,将为您生成具有针对性清除功能的Dr.Web CureIt!。
License agreement
We recommend that prior to purchase, you familiarize yourself with the terms of the license agreement.
Renewal terms
To continue using Dr.Web vxCube, you will need to purchase a new license. No renewal discounts are available for Dr.Web vxCube.